Welcome to Zoll Plus
Because of a constantly changing legal framework in the area of ​​customs, trade and tax law, the legal environment for the EU import and export business get increasingly complex. Also the EU customs authorities set very high demands on the respective economic operators.
Under these circumstances, a competent partner is needed, to ensure a full legal compliance whereas on the other hand all the possibilities of the EU customs law are used in favour of our customer. Zoll Plus guarantees an independent and centralised Customs Clearance for the import and export industry, as well as for freight forwarders.
Advantages
+

Centralised clearance at the place where the economic operator is established.
+

Concentrated knowledge on your business and products to guarantee a flawless customs clearance in full compliance to EU customs and foreign trade law.
+

Independent service for the import export industry as well as for freight forwarders.
Contact
Main Office Wels
Terminalstraße 102, AT-4600 Wels
T: +43 (0)7242 214032 – 0
F: +43 (0)7242 214032 – 9
E: office@zollplus.com

Office Airport Linz
Flughafenstraße 3, AT-4063 Hörsching
T: +43 (0)7221 63138 – 0
F: +43 (0)7242 214032 – 9
E:
hoersching@zollplus.com
Centralized Customs Clearance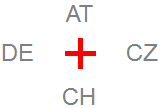 We offer a centralized customs clearance in four European countries.
Our Services
CUSTOMS CLEARANCE
+ EU Import declarations
+ EU Export declarations
+ Transit documents (T1, T2, T-, T2LF, T2F)
+ Carnet-TIR
CONSULTING
+ Tariff preferences
+ Tariff classification
+ Special customs procedures:
- Inward Processing
- Outward Processing
- Temporary Admissions
+ Export Control
+ Duty Suspensions
Please contact us for any more information on our services.